What is an add-on and how to easily apply or remove them from your account
Add-ons are designed to help you create a bespoke plan that works for you to enrich your experience on the platform.

You start with your base plan, this can be either the X-ray plan - which you can add the Discover Add-on to allow you to search the database or the Campaign Manager Base Plan and then add on what you need to further customize your experience- we'll go into this in depth below.

When you customize your Campaign Manager plan you are selecting all the ingredients you need to take control of all aspects of your influencer marketing needs. Over time your needs may change, this is why we want to give you full flexibility: turn your add-ons on and off as you wish each month - no long-term commitment!
Simply head over to Settings and click on Customize Your Plan.
By sliding the selector to the right you are selecting that particular feature to become active. All features will activate for a minimum of one month. You can pick and choose features and combine them to make the perfect plan for you. As you add features you will see your monthly fee adjust - it's that easy!
Please note that some add-ons are interdependent - for example, if you are only analyzing influencer profiles using X-Ray, you cannot add the Reporting add-on because that feature is used for campaign management. All compatibilities are shown in detail when you click on the little arrow on the right corner of each Add-on feature.
If you want to turn off the subscription, simple switch off, but then you won't be able to use it for the rest of the month, unless you pay again.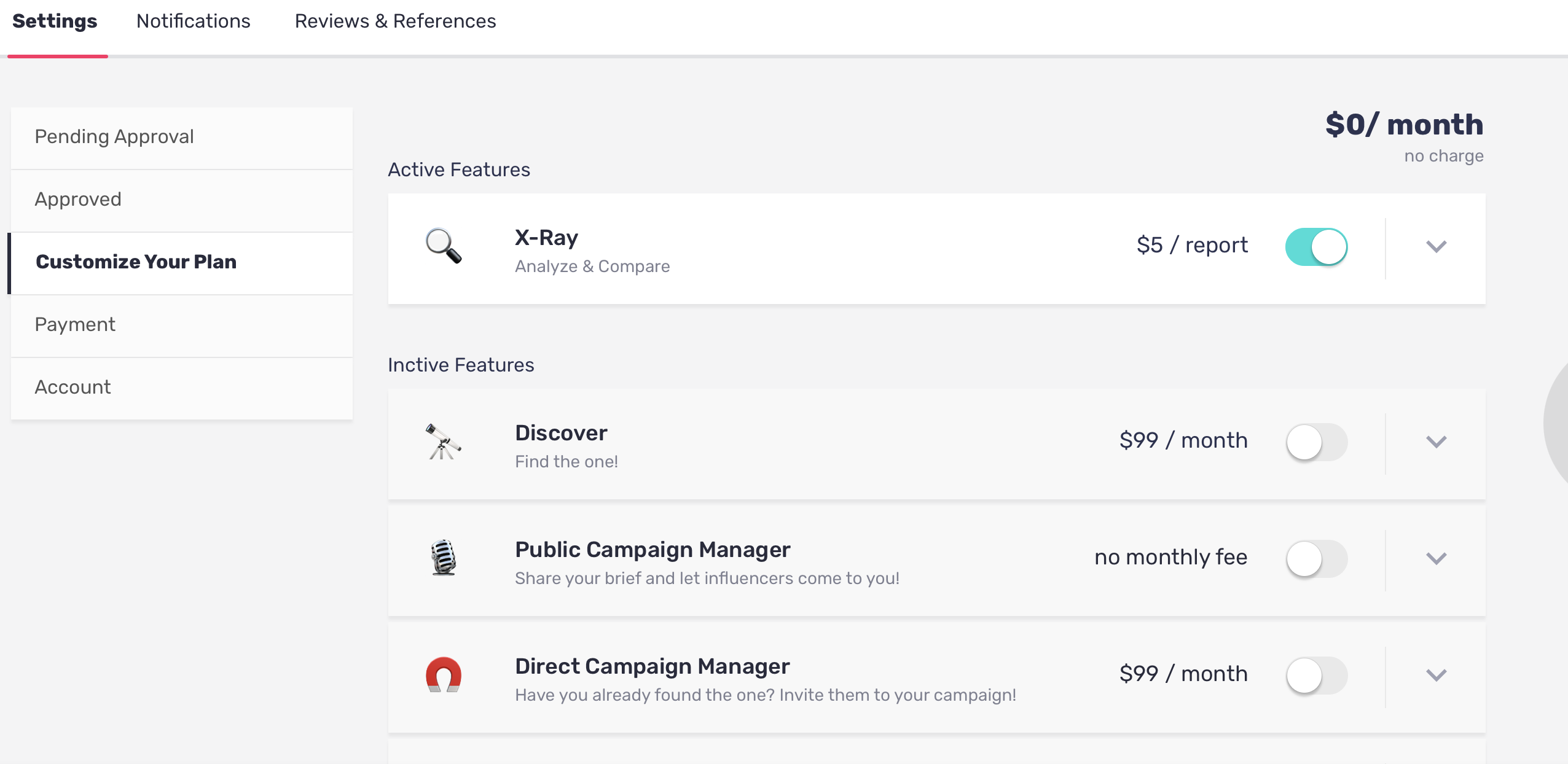 The following are available to add to your account (click to view individual article):
Discover - discover search engine, estimated results, influencer unique and aggregated analysis download
Campaign management - direct campaign option, charity campaign, campaign overview results
Product payment - unlimited product payment options
Reporting - customisable campaign summary report, market statistics and insights
Team organisation & sub-accounts - associates and permissions, sub-accounts, team training