We believe that integrated campaigns are the future of influencer marketing, that's why we aim to give you the option to create automated multi-platform campaigns with the most social media players possible. On our website, you can not only manage single platform campaigns, but you are given the chance to choose from different channels, ask for the amount of content you wish to be published on each channel and even give different instructions to the influencers for each and every platform - all managed within the same campaign!
What are the advantages of multi-social media platform campaigns?
Studies show that campaigns integrating 4 or more digital channels will outperform single- or dual-channel campaigns by 300% from a performance perspective. Another reason why multiplatform campaigns are a good choice is because brand consistency should be an innate part of your brand identity, as it helps customers better understand the message and the overall mission of your brand or a particular campaign.
How to use our Multiplatform feature?
To be able to start a multiplatform campaign, you need to know whom you'd like to work with, as you can only use this feature in Direct campaign mode.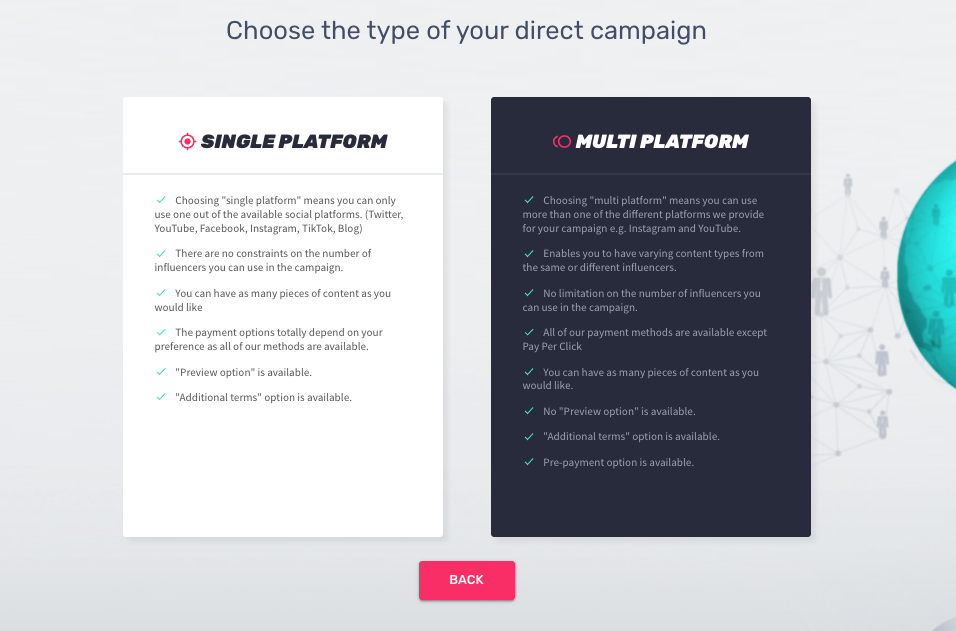 Once you've chosen the influencers you wish to collaborate with and set up the basic information, you can enter the number of feed/stories you'd want from each influencer separately under Payment settings.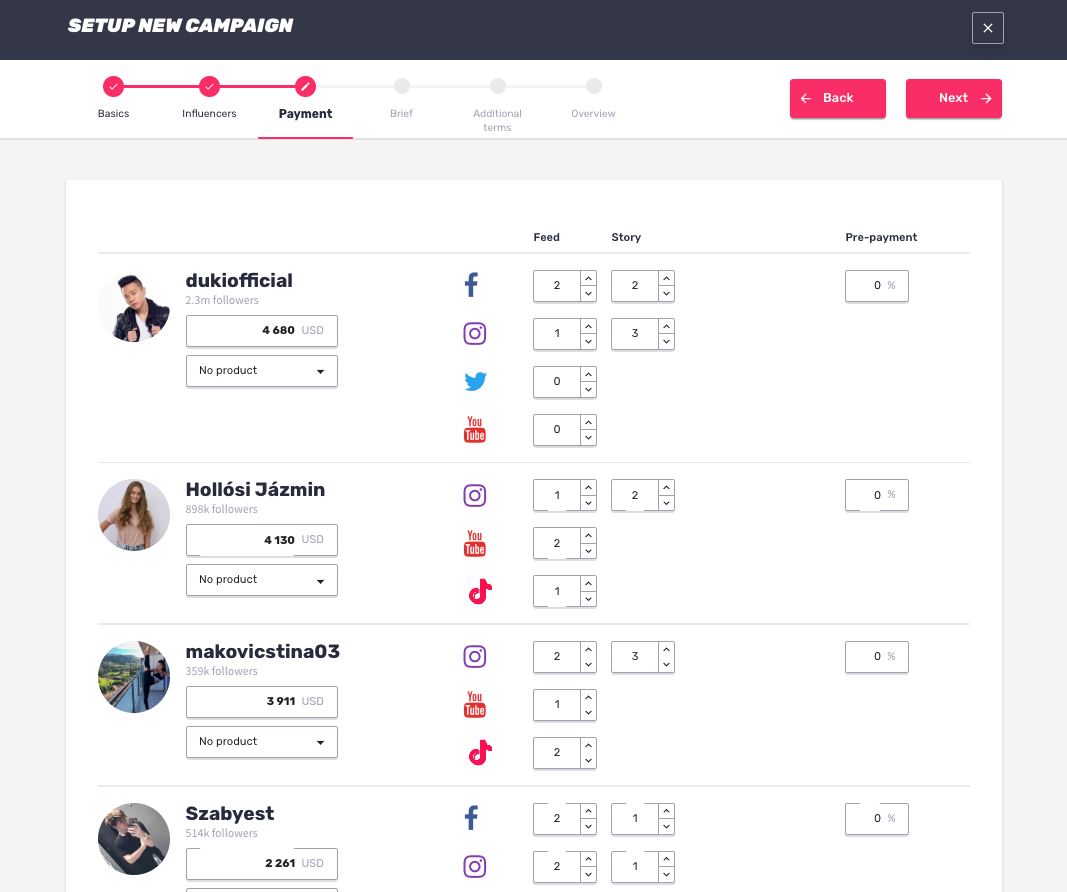 Give instructions to each platform and each influencer separately if needed, or simply copy and apply the same brief to all of them.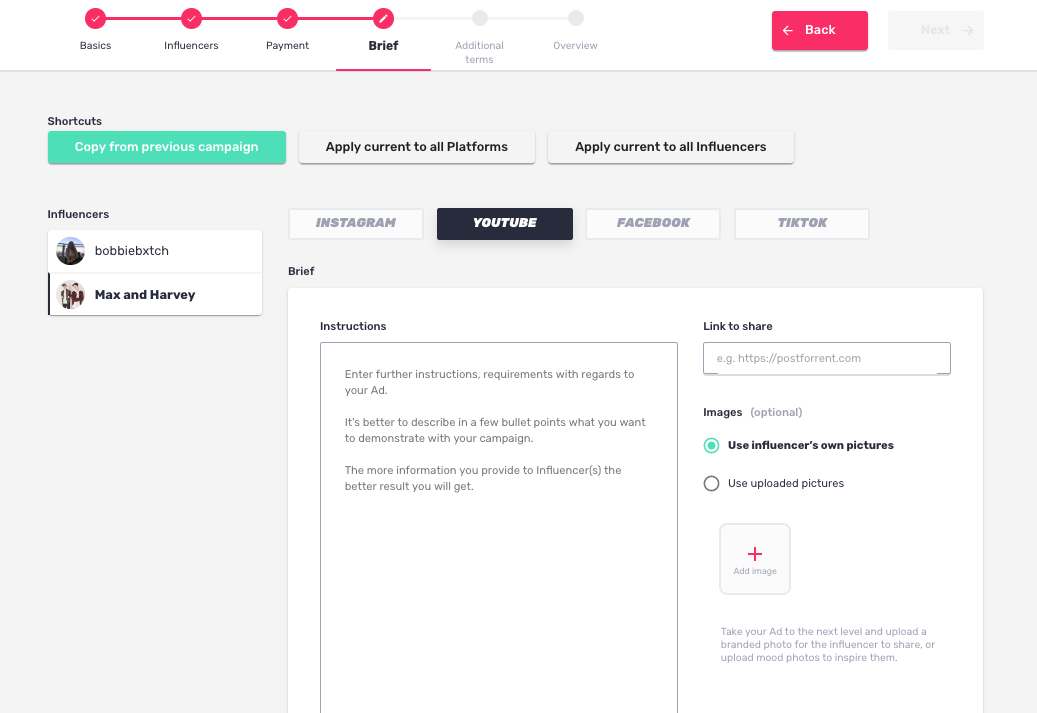 The seven available platforms are:
Instagram
Facebook
Twitter
TikTok
Snapchat
Youtube
TuneMoji
Instagram provides the best value for money and generates great engagement. Post For Rent offers the possibility to start for PPC campaigns on Instagram as well, by using a swipe up in stories.
Facebook is the best channel to speak to audiences from the generation Y and up, it is also easy to make use of the content by creating paid ads afterwords.
Twitter equals a short form of contents. It's fast and easy as multimedia/visual content is not necessary and Twitter is the best platform to share links on.
TikTok - or as it was formally known, Musically - is the place to find the representatives of generation Z as it is mostly used by an audience between the ages 13 and 24. Its main characteristic is the high engagement and a great level of devotion and admiration towards creators, which means: higher level of influence on your target audience.
Snapchat - is a very popular messaging app that lets users exchange pictures and videos (called snaps) that are meant to disappear after they're viewed. It's advertised as a "new type of camera" because the essential function is to take a picture or video, add filters, lenses, or other effects and share them with anyone.
Youtube is detailed, creative, variable, and very easily measurable with detailed statistics. As far as Youtube content you can either ask for a dedicated video, or a mention content - which of course, is a lot less expensive. Youtube contents perform well on engagement rates as well.
TuneMoji is the newest arrival and it positions itself as the only MusicGIF Community Network out there! It allows creators to express their creativity through customized music, meme, and movie sound GIFs, providing an awesome new way to communicate. It is also possible to instantly share the creations on other messaging apps. It's easy to use, content creation has never been this fast compared to all other social media channels - which means no more worries about the quality or time management, and it also gives a more reasonable price to it.