Find the influencers who are the most suitable for your campaign message according to the contents they post and the activities they have.
On our platform, you can not only search for influencers based on their demographics but also using the hashtag filter, designed particularly in order to help you find the perfect person you need for your brand and campaign. It shows the influencers that use your chosen hashtag the most and the result? Influencers who are the most suitable for you according to the contents they post and the activities they have.
Our hashtag filter will allow you to:
Search more efficiently
Stay focused and find the best fit for all your campaigns and purposes
The chosen influencers will be more genuinely engaged with your topic
Download all the information and data you need in the format of your choice
Obtain a document that is ready to be used in your presentations and reports
How does it work exactly?
Once you already clicked on the 'Influencers' button, you can use the hashtag filter and the search based on demographics at the same time. You just type the hashtag (e.g., #foodporn #travel #sustainability) and check the results.
If you add more than one hashtag than you'll filter your results further and you'll see those influencers only who used all hashtags you added.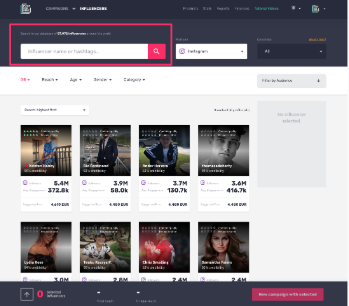 Select the ones you like the most and see your list on the left side.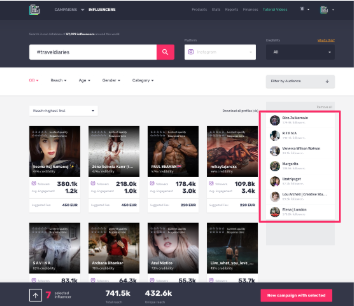 By clicking on the arrow below, you will be able to see the estimated results of a potential campaign as well as save and download info about your selected influencers for that specific hashtag. This way you can create groups based on the hashtag and handle them separately.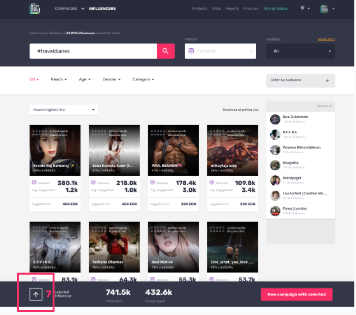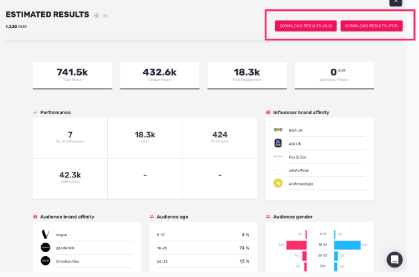 In case you have more than one relevant hashtags related to your campaign, this feature provides you a simple solution to differentiate the influencers you'll work with. By clicking on 'Remove all' you can start all over again with a different hashtag of your choice.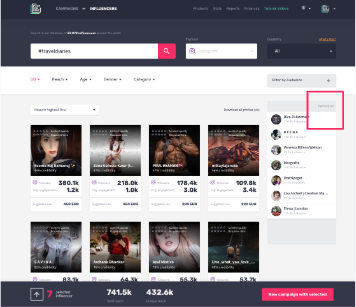 Type another hashtag and repeat the process, just like you did the first time: select the influencers you like to get your new list and click on the arrow below for the estimated results and download them if needed.