How to create a Public campaign step by step
All the influencers who meet the requirements can request to be in your public campaign.
Public Campaign is a manager feature so you need the Campaign Manager Add-on.
1. START
First, you have to click on New Campaign in the upper right corner.
You can always start it from scratch or just modify one of your existing campaigns.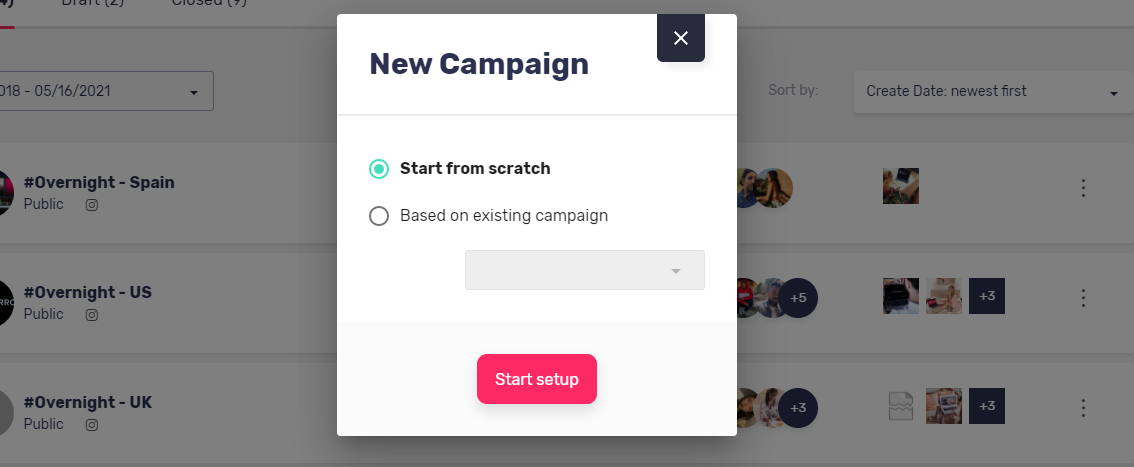 2. BASICS
Add a name for your campaign, set the countries from which you want the influencers to work with you, and also set the type of content you want from them


With Pro Campaign Management add-on
If you also want your influencers to apply with a content proposal (this means you can see the content beforehand) you should check the Enable Preview box.
If you want to see Feed and Story to be posted within one campaign, click on Multi-Content and add the amount of it.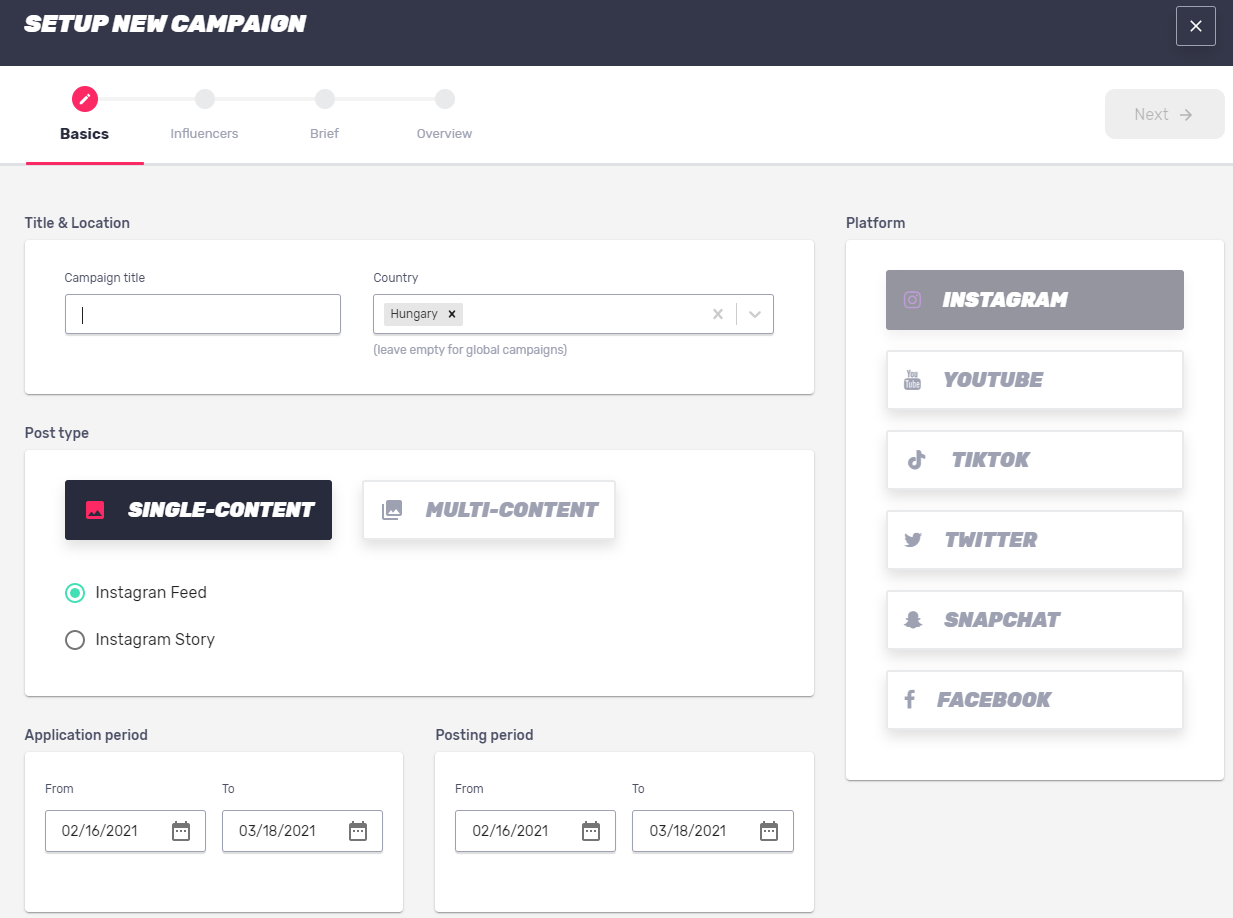 3. INFLUENCER SETTINGS
Here you can set the minimum and/or maximum number of followers, gender, the age and gender of the audience, minimum rating and credibility, etc. You can fully customize what audience you want to reach through your influencers.

With Pro Campaign Management add-on
If you want to pay with a product you need at least a Pro Campaign Management add-on - it costs 10 USD for each successful collaboration.

With Product Payment add-on
If you want to pay with a product without any cost we'd suggest you turn on the Product Payment add-on.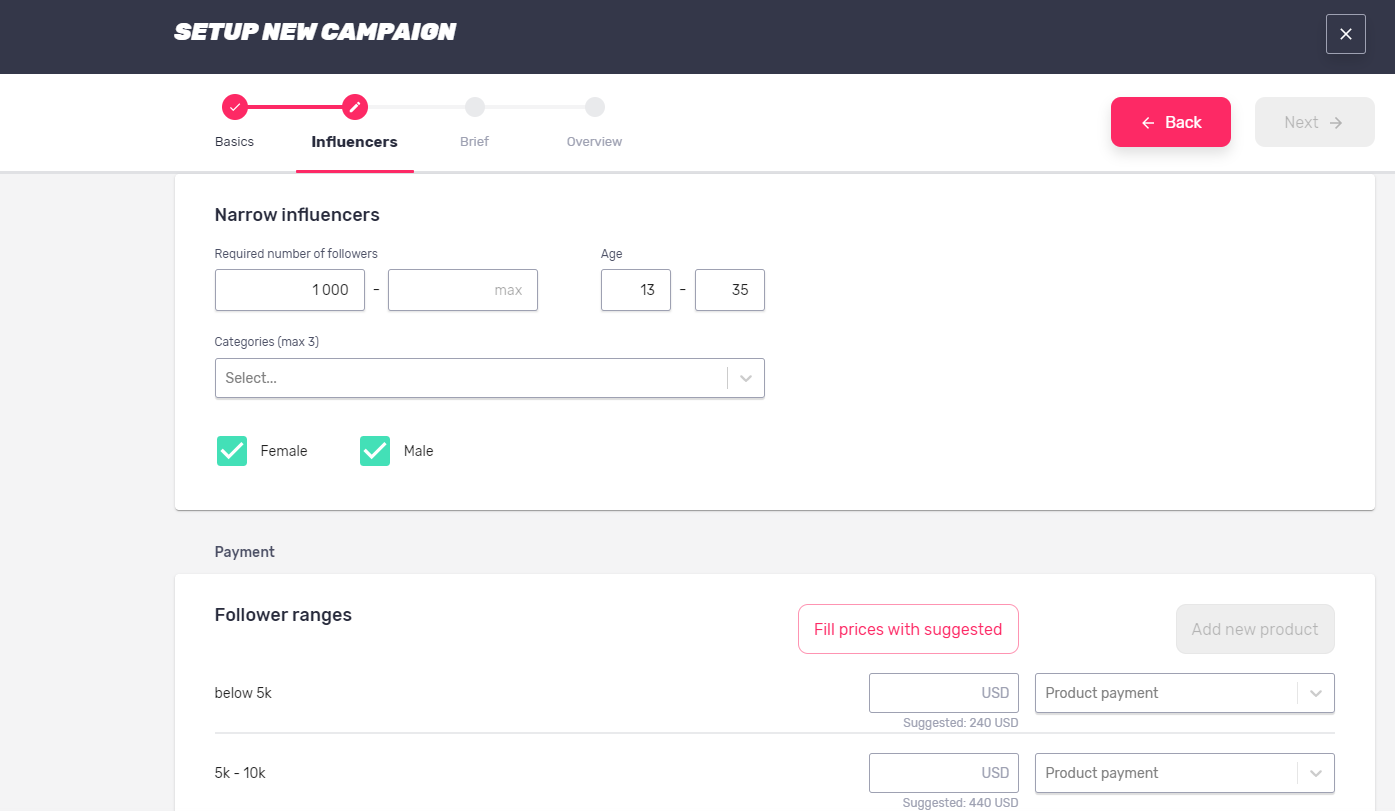 4. BRIEF
It is always important to write a thorough brief of your expectations about the campaign. Write about the campaign's goal, what you want see from the influencer, the DO's, DON'T's.
Upload pictures of the products and for references so the influencers can be inspired by them.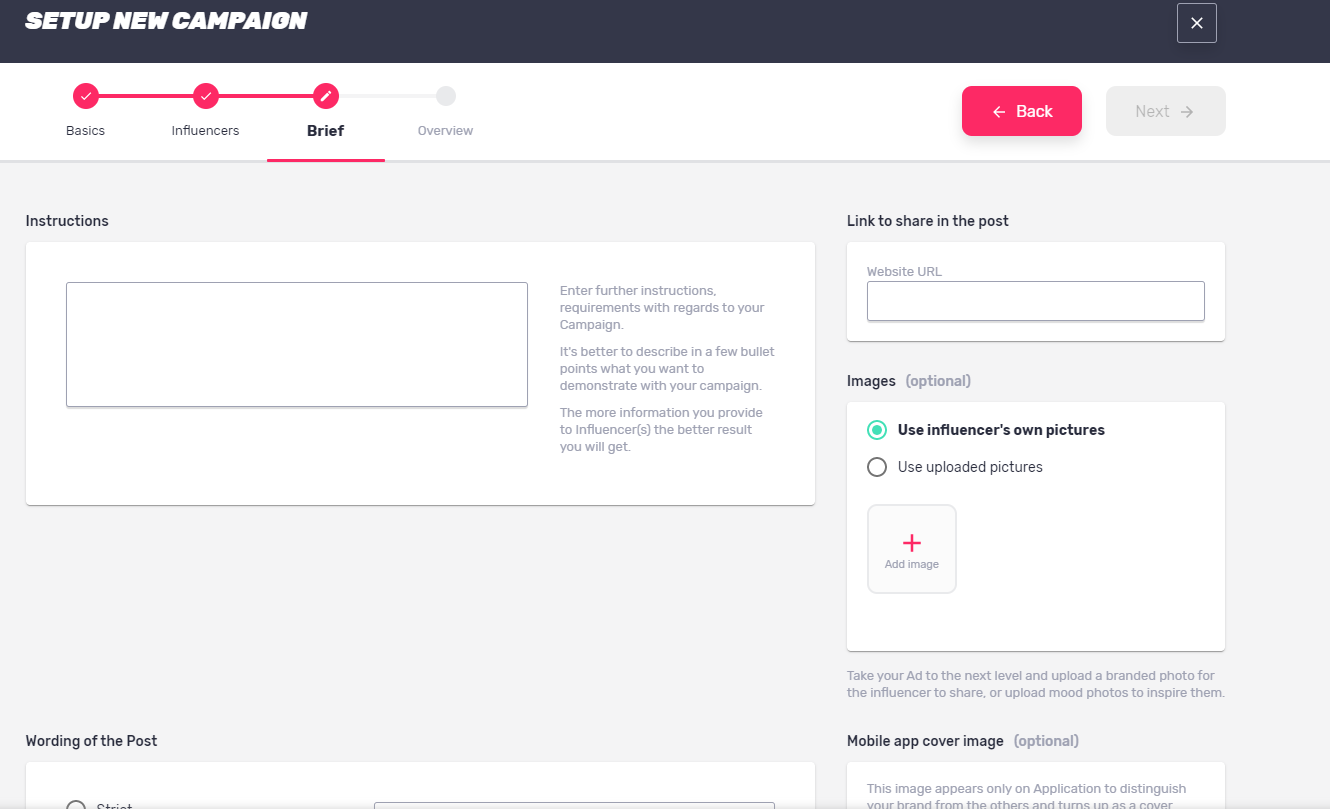 Here is an article on how to write an effective brief!

5. OVERVIEW
Click on the Finish, so the campaign becomes available for the influencers.
Now you have to wait for the influencers to request your campaigns. You can either accept or reject an application, but make sure you are not making the influencers wait for too long to be accepted.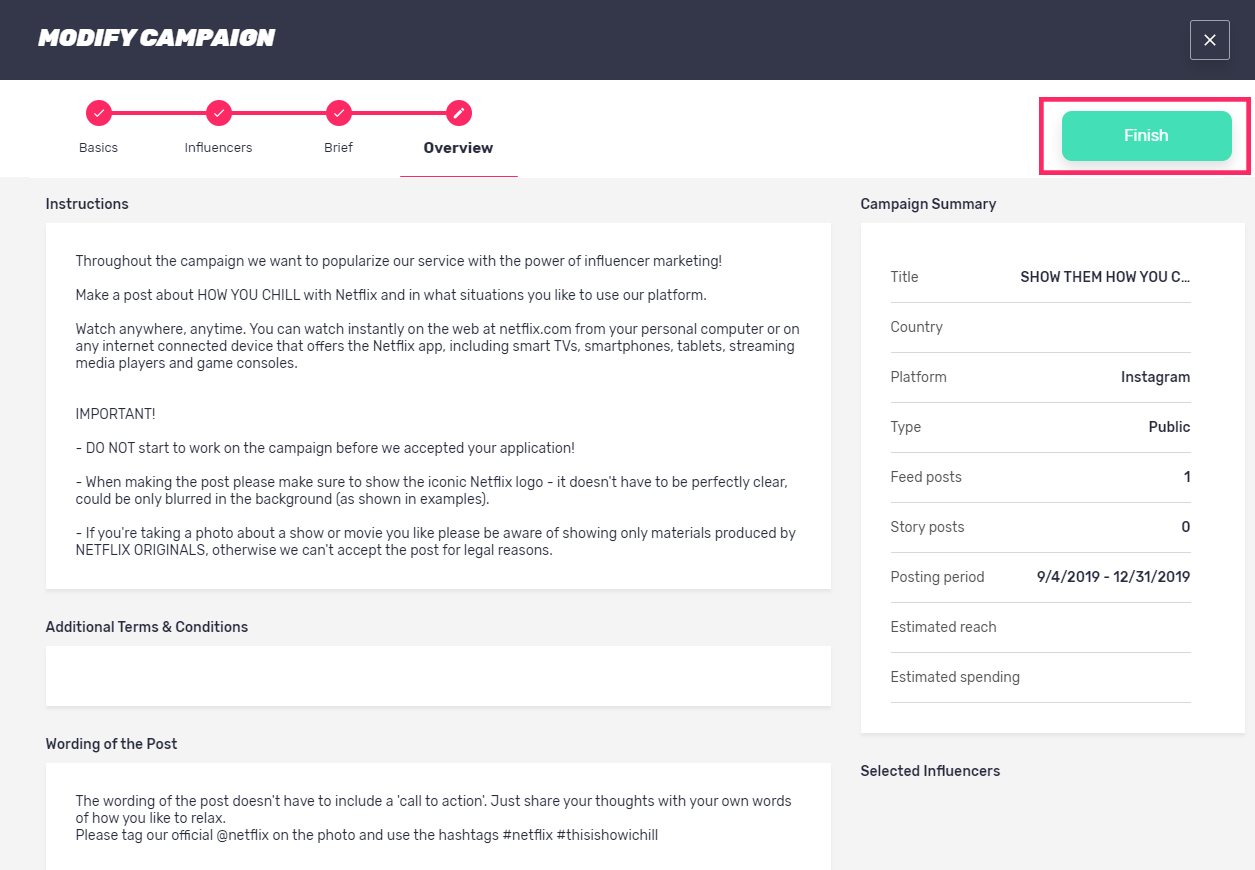 Payment
You can set a full budget for your campaign and also set different prices for different ranges of followers.
You can also pay your influencers per click. This means you pay after every person who clicks on the link in their post in your campaign.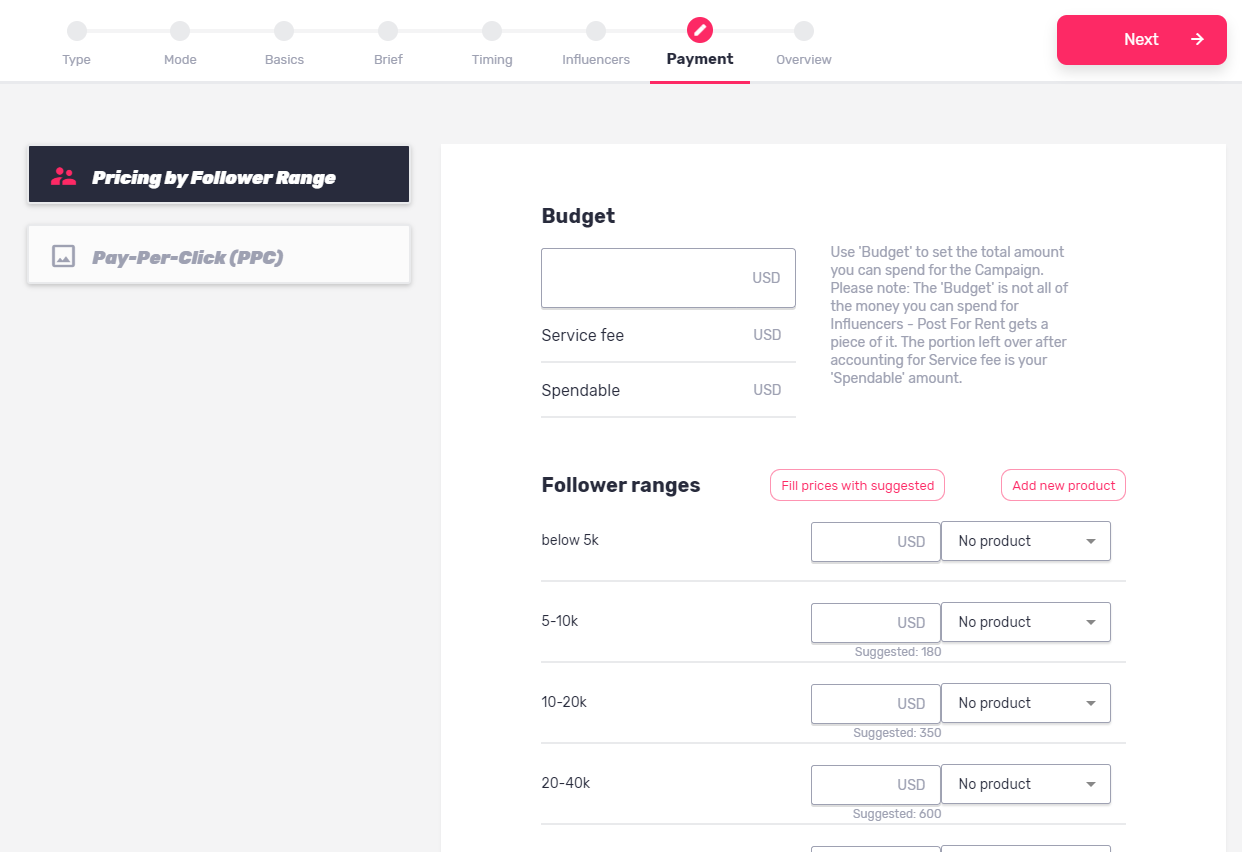 Credibility
If you enable this feature, only influencers above this percentage can apply for the campaign.