Help with all aspects of managing campaigns on our platform.
In our platform subscriptions that allow campaigns to be run, you have a whole host of features to make your life easier. In this article, we will explore what those features are and how to use them effectively.
With the base Campaign Manager Add-on you'll be able to create unlimited Public Campaigns
With the Pro Campaign Manager Add-on you will be able to create unlimited Public & Direct Campaigns
With Enterprise you will be able to create unlimited Public, Direct & Reach Campaigns
On your home page, the first screen your see will be a snapshot of ongoing campaigns giving you vital information at a glance.
Drilling into the campaign will allow you to see further details and controls- the first screen will show you the overview of the campaign including the percentage of budget spent, number of posts, total reach, unique reach, and engagement.
Using the navigation bar above you can progress through the sections, the second of which is influencers, here you'll see influencers who have requested to join your public campaign, the ones waiting for approval, the Influencer statuses that are work in progress, the closed applications, the rejected and the aborted influencers.
Moving on top the next tab you'll see the content section to easily check:
which contents you're still waiting for
submitted by the influencers for approval
accepted posts that are already live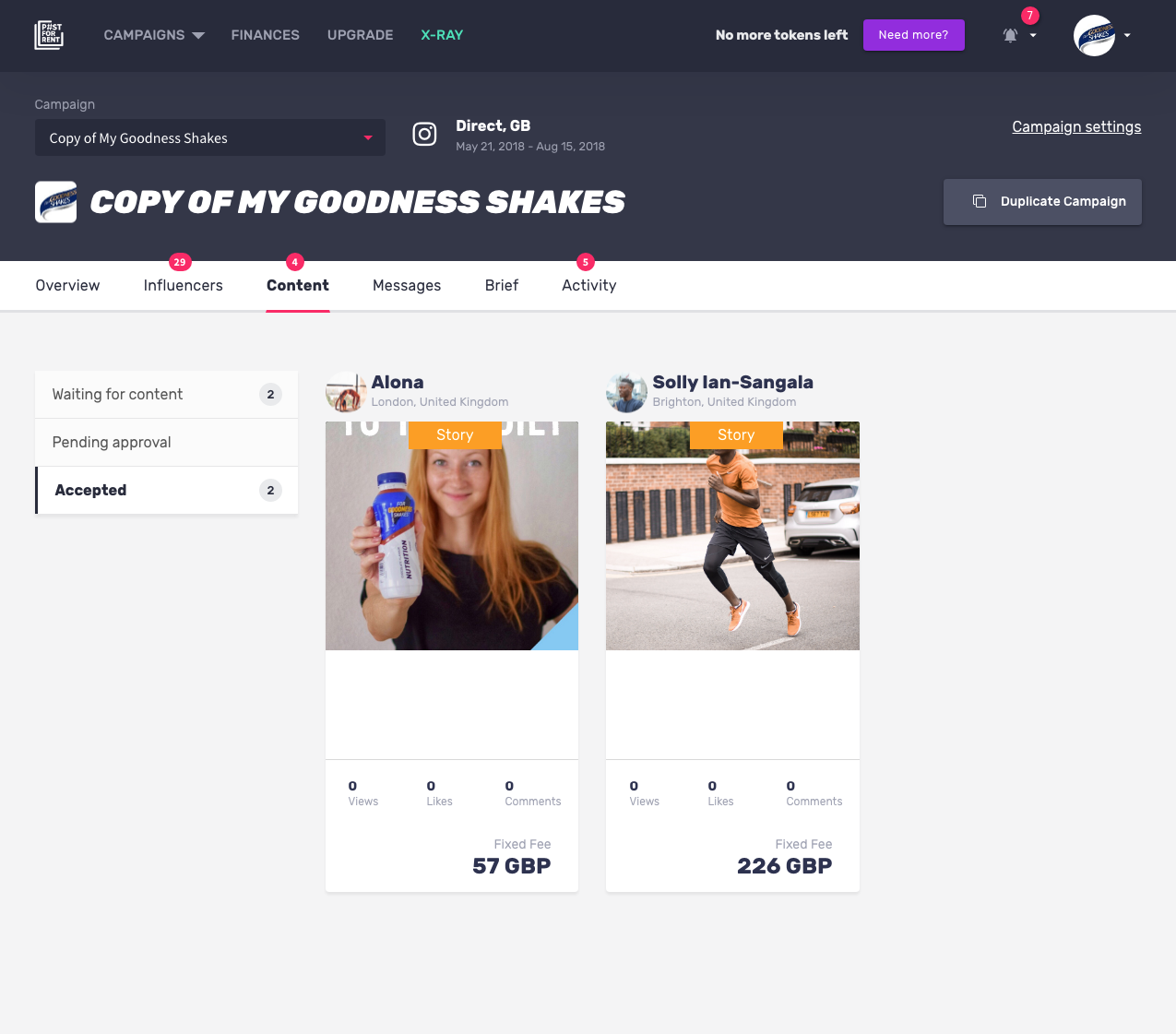 Next, you would find the messages section where all your communication for this particular campaign can be accessed. You can reply individually or send group messages to all influencers.
After the messages tab, you will find the brief tab, here you can check the brief set for the campaign.
And finally, the Activity will give you a look at everything that's happened regarding your campaign in chronological order.
Clicking the Duplicate campaign button will allow you to reproduce the same campaign for your next one, keeping all the details as before but also allowing you to modify anything should you wish to make alterations.